---
Lindsey Wilson Community Welcomes Class of 2021
---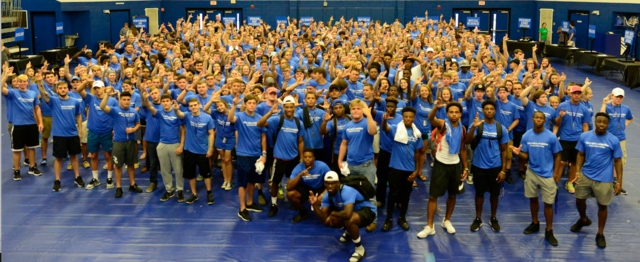 COLUMBIA, KY. -- During Saturday's Kick-Off Ceremony at LWC, Freshman were told to work through the next four years with one date in mind: May 8, 2021.
That's when members of the Lindsey Wilson College Class of 2021 are scheduled to graduate from the liberal arts college.
LWC President, William T. Luckey Jr., told the freshman class Saturday afternoon at an opening weekend ceremony in the Roberta D. Cranmer Dining Center to keep in mind all the amazing things their class will accomplish together.
"You are going to accomplish great things together and as individuals," said Luckey."You will win national championships together; you will travel across this country together and to other countries as well; you will sing and act, make music together; you will serve in nursing homes, daycares and afterschool programs together; you will laugh, you will cry, you will grieve, and you will celebrate together."
Luckey also encouraged the freshmen to take advantage of the opportunities they receive over the next four years -- not unlike the way he did 35 years ago when he left home for college in the Midwest.
"I had a lot of fun. I played hard, but I also worked hard," he said. "I took advantage of an incredible opportunity, and I'm reminded of that every day of my life. The question is, will you do the same? Will you take advantage of this opportunity before you today?"
LWC Student Government Association President Morgan Sexton of Monticello, Ky. told the freshman to use this time in college to get out of their comfort zones.
"I want to encourage each of you to go everywhere, do everything, and talk to everyone during this time," said Sexton. "Really try to get out of your comfort zone… This place, the events and programs you attend, and the people who become your friends are going to make your college experience one you will remember for a lifetime."
Students began moving into residence halls early Saturday morning -- an annual tradition that longtime LWC Dean of Students Chris Schmidt said he always enjoys.
"Opening weekend is traditional. It's performed by colleges all over the nation, but we try to make it special," Schmidt said. "For many people, opening weekend marks a new beginning and a series of new opportunities. It would be anti-climatic if we didn't make a big deal out of it. It's not just a big deal to the students but to the parents and grandparents. We have so many first-generation college students here that it means a lot to entire families."
Freshman Emily Rice of Henry County, Ky. moved in early for the Bonner Scholar program. She says that she has been blown away by the energy of campus and the kindness of everyone she's interacted with.
"So far nothing has been the way I've expected it to be," said Rice. "I was a part of the Governor's Scholar Program so I thought I had an idea of what the college experience was going to feel like, but the energy of the past few days hasn't died down at all. It's been a real surprise. Everyone's excited to be here, and everyone I've met, from the Bonners to random people on campus, have been so accommodating and kind."
Freshman Jacob Shofner of Boone County, Ky. says that the excitement of the day has him ready to get to work on the next four years.
"It's been exciting to see who my classmates are going to be for the next four years," said Shofner, "At first it was a little overwhelming just with how crazy move in day has been, but as the day goes on it just has me ready to get started. I have a great feeling about it to say the least."
For scenes from LWC Move In Day and Welcome Week, check out our Flickr page at: https://www.flickr.com/photos/lindseywilsoncollege/albums