---
LWC Prepares for Students to Return
---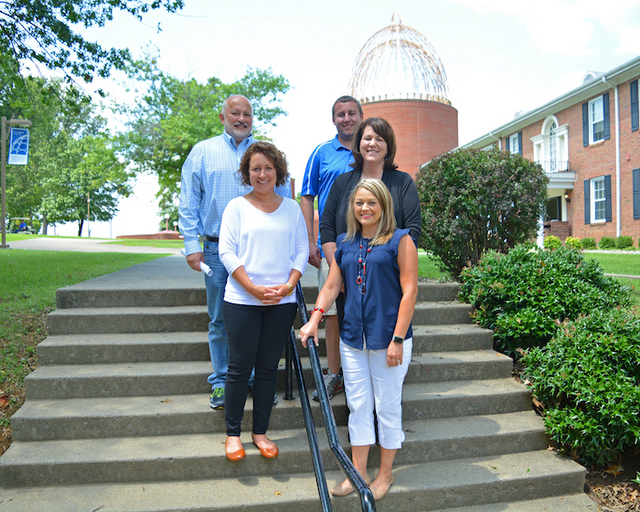 New Faculty gather at faculty retreat on Lindsey Wilson College's main campus to kick off the new school year. Pictured: Gregory Sandman, top left, Andrew Johnson top right: Amber Hughes, middle row, left, Jennifer Antoniotti-Neal, middle row, right, and Emily Button, bottom. Robert Roscoe, not pictured.
Columbia, ky. -- Columbia's population will increase by almost 25% this weekend as more than 1,100 students are expected to move into the Lindsey Wilson College residence halls for the 2017-18 school year.

LWC's welcome week kicks off August 12, 2017, with move-in day for new students and classes will begin on August 16 on the A.P. White Campus.

From the moment students arrive, they can expect to be met with not just helpful, friendly faces, but a myriad of activities to help welcome them to campus.

"For new students, the first few days of college can be the most nerve wracking," said LWC Director of Student Activities Lafawn Nettles, the organizer of the welcome week activities and events. "Our goal is the make the transition for students as fun and seamless as it can be. Whether it be through fun activities like laser tag, free movie night on the quad, free pizza, etc, we want to make sure our students are having a great time."

"Seeing students come together and forge great friendships will always be my favorite part of welcome week. It's so important that students get out of their rooms and take this opportunity to immerse themselves in college life and make new friends."

Students can also expect to see new faces on campus. Dr. Patricia Parrish began work at LWC on July 1 as the college's new vice president for academic affairs and six new faculty will greet students when the semester begins.

Parrish comes to LWC from St. Leo (Fla.) University, where she was assistant vice president of academic affairs and a professor of education. Parrish says that she has been impressed with how the college serves its students.

"When I explored the mission and the outreach to students, I realized it was the exact type of institution that fits me," said Parrish. "It's about service and the students come first. It just made sense to me. I've been overwhelmed by the warmth of the LWC community and the total commitment to students. I'm very excited to be able to contribute to that and becoming a part of this team is so rewarding."

LWC President William T. Luckey Jr., said that Parrish's skills and experiences make her a perfect fit for the college's needs.

"We are all so excited about Dr. Parrish being a part of the LWC community," said Luckey. "She comes to LWC with a lifetime of achievement at increasingly difficult challenges. Her people skills, listening abilities, entrepreneurial spirit, and commitment to our mission will serve our faculty and our students well as she leads the college to new heights."

The new faculty for the 2017-18 school year includes:
Associate Professor of Chemistry Andrew Johnson, Ph.D., who earned his doctorate in Organic Chemistry from University of Notre Dame (2011).

Assistant Professor of Psychology Robert Roscoe, Ph.D., who earned his doctorate in Experimental Psychology from the University of South Carolina, Columbia (2016).

Assistant Professor of Counseling & Human Services Amber Hughes, PhD, who earned her doctorate in Counselor Education (2013)

Assistant Professor of Education Jennifer Antoniotti-Neal, EdD, who earned her doctorate in Educational Leadership from Western Kentucky University (2016).

Assistant Professor of Counseling & Human Services Gregory Sandman, PhD, who earned his doctorate in Counselor Education and Supervision from the University of Wyoming (2017).

Director of Nursing Emily Button, Ph.D., who earned her doctorate in Nursing Practice from Western Kentucky University (2017).
A complete list of all Welcome Week events can be found on the LWC App, available on iTunes and Google Play. For more information on LWC Welcome week contact Lafawn Nettles at nettlesl@lindsey.edu or 270-384-8033.