---
LWC Hosts Four Public Christmas Events
---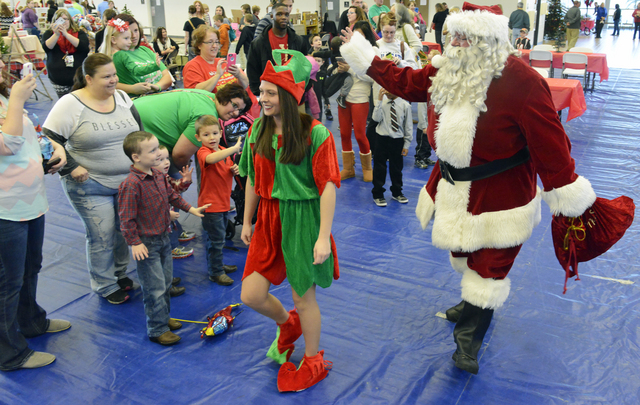 COLUMBIA, Ky. -- The Lindsey Wilson College community will give area residents several opportunities to get into the Christmas spirit this year.
The college will sponsor four public events from Dec. 1-5 that celebrate the Christmas season: a community concert, band concert, theatre production and Christmas carnival.
The Christmas celebration gets underway Dec. 1, with the LWC Concert Band's Annual Christmas Concert which will be performed by the LWC Theatre Program. A "Holiday Cabaret" will be presented at 6:30 p.m. CT Dec. 1 at Bigger's Sports Center. Under the direction of the Lindsey Wilson Director of Instrumental Ensembles Tim Allen, the concert is free and open to the public.
The band concert will be followed on Dec. 2 by the seventh-annual Christmas Carnival. The Christmas Carnival will be from 1-4 p.m. CT Saturday, Dec. 2, in the Doris and Bob Holloway Health & Wellness Center, 399 Williams St.
The Christmas Carnival -- which has the theme "Bluegrass Christmas" -- is free and open to the public. It will feature several activities for children, including cookie-decorating, storybook village, arts and crafts, face-painting, and inflatable playground equipment. Children will have an opportunity have a picture taken with Santa Claus from 1:30-3:30 p.m. CT. Local vendors will have craft items for sale.
Though not explicitly related to the Christmas season, the LWC Theatre Department also will be holding performances of "Songs for a New World", a work of musical theatre written and composed by Jason Robert Brown. The performances will be held Dec. 1 at 8 PM CT, Dec. 2 at 7 PM CT, and Dec. 3 at 2 PM CT. In this song cycle focused on the point of decision, each song tells a different story forcing audiences to ask themselves what they would do when faced with a fork in the road. Do they turn and run? Make a decision that may hurt someone else? Or do they push forward and forge a new path?
The Lindsey Wilson College weeklong celebration of Christmas will conclude on Dec. 3 & 5 with a "Christmas Potpourri" presented by the LWC Singers and Handbell Ensemble. This free community performance invites audience members to sing along with selections such as A "The 12 Days After Christmas", which is described as "An epic tale of outlandish proportions brought to you by the creative talents of the Lindsey Wilson College Singers". The performances will take place at 6:30 p.m. CT, Sunday, Dec. 3, at Broadway United Methodist Church in Bowling Green, and again at 6:30 p.m. CT, Wednesday, Dec. 5, in the Cralle Student Union Building on the campus of Lindsey Wilson College.